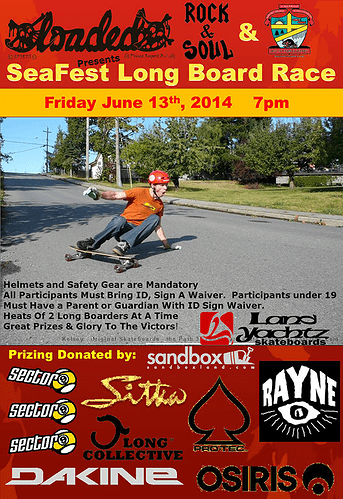 "Constable Maury Tyre has been assigned to traffic safety for longboarders and bicyclists after the local RCMP and City Officials have received numerous complaints about their use of roadways. The main concern of these complaints was the saftey of the longboarder or bicyclist.
Constable Tyre Initiated the "Brain Awareness Campaign". This campaign has initially been supported with a grant from "Northern Health". The focus of the campaign is to encourage the use of helmets while riding skateboards/longboards or bikes on the roadways of Prince Rupert and providing helmets for those who cannot financially afford a helmet.
For the first time ever and as part of the "Brain Awareness Campaign", The community of Prince Rupert will have a longboard race hosted during Seafest. The event is being organized by Constable Maury Tyre of the RCMP, Marc Page/Steve Newman of Loaded Sports, Prince Rupert Special Events Society, and the Port of Prince Rupert. The event will take place on the Friday night of Seafest and in conjunction with a childrens festival being held at Mariners park. It wil be free to enter so its affordable for everyone. We currently have 2 routes in mind and we are hoping to end the race in Cow Bay. Our plan is to make this an annual event.
There will be various age and gender catagories from ages 12 and up. All contestants under 19 must have a parent or guardian signature. All contestants/parents/guardians must produce 2 pieces of ID. Helmets and gloves are mandatory, contestant must supply their own. Elbow and knee pads will be supplied but it is recommended that you bring your own. We have lots of prizing such as longboards, helmets, gloves, tshirts, wheels, hats, etc."