Long story short, I just bought my first house and I need some help picking out what color and type of tiles to use in the kitchen backsplash and bathroom floors and backsplash.
I took a photo of a finished house with the same cabinets and layout as the house being built for me, but I have done my best to photoshop the cabinets, walls and countertops to the colors that will be in my house. Currently there isn't even a piece of drywall in my house.
It is pretty dark and brown in my photoshop picture. I think a bright or colorful backsplash might liven it up a bit… what do you think?
Bathrooms will have the same dark cabinets with a lighter sharkskin paint color. I need to pick out backsplash color for around the tub and counter, also the flooring color in tile.
Any advise is appreciated!! I think lighter cabinets or countertops might have been a better idea. It almost looks like I converted to grayscale.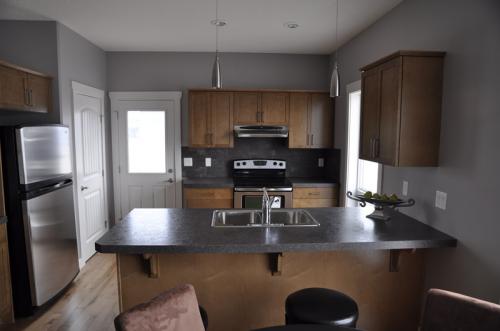 This is the original from the other house.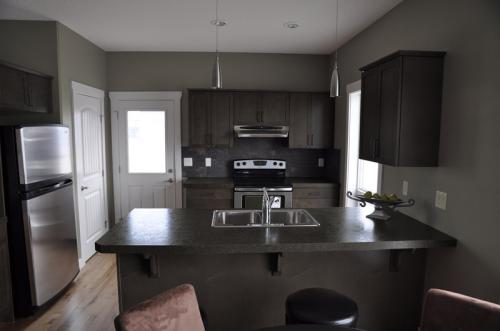 This is my first try with darker color and dark cabinets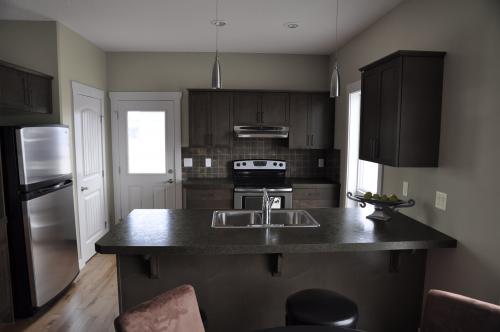 My second edit with lighter colors and modified backsplash.
MiG, thanks for introducing me to Photoshop back in infotech. I can still barely even use it, but I think being able to do the above is pretty cool.