YAHOO!!! Downtown is NUTS!!! Cars honking, people on the streets…what a party!!!
Haha, yea, the line was from raffles, up third ave to the stop lights, that's how far it went.
Can anyone tell me who the young man was wearing the Canucks Headdress, who was dancing in the middle of the intersection of 3rd Ave. and Fulton? People from the south saw it on CHEK TV tonight (Victoria) and are wondering who this now famous Canuck fan is.
Another famous face also supports the Canucks!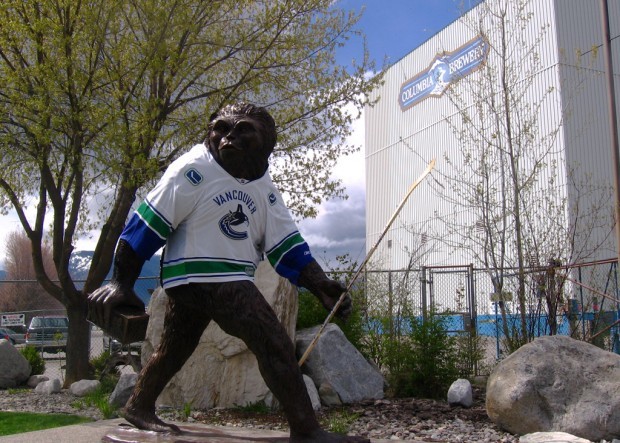 Is Chief Canuck a secret like the green men? Can't someone tell me who he is?
Kelly Brown is his western name, in traditional circles he is known as "CHIEF CANUCK" He has been a the fearless of Canuck Nation since TIME IMMEMORIAL.
Small-town Smithers cheers on Canucks and its NHL-star son
And we win again!!!
Burrows, 11 seconds into OT
I seems like Burrows wants to be the unsung OT Hero in the history of the Canucks playoffs.
Speaking of heroes, who do you think will rise to score the GWG in this series with Boston?
[quote="herbie_popnecker"]And we win again!!!
Burrows, 11 seconds into OT[/quote]
and 14 seconds left in the third period last Sat. friggin awesome…wooooohooooooooooo
On the road out of town I noticed a dummy dressed in a Boston uniform dangling from a crane! No damn camera with me.